Behind the Brand:
MTS Nutrition CEO Marc Lobliner
MTS Nutrition CEO Marc Lobliner
Marc is the Owner/CEO of two of the fastest growing supplement companies in the industry, EthiTech Nutrition and MTS Nutrition. Among other ventures Marc is also the vice president of the ANBF, a fast growing natural bodybuilding organization.
Hey Marc! So as I said above you're currently the owner of two supplement brands. What are some of the things that motivated you to begin your own brands?
As the owner of Scivation, I started something that needed expanded on. I wanted to not only cover the bases, but there were some things I needed done.
I wanted to OWN customer service. I felt what we did was great, but I could do better. With that said, MTS Nutrition has become THE leader in personalized service.
I have always dreamed of making the perfect MRP, and with Macrolution we have it. The best quality protein, essential fats and even veggies and the best taste a nutrition shake has ever seen.
I wanted the best Greens product and also, heck, why not make a multi with it? Machine Greens + Multi did this.
DO IT ALL BETTER! Better BCAA, BETTER PROTEIN AND BETTER PRE-WORKOUT. I did this and they are all best in class.
Above all else, I want make sure I can help as many people reach their goals as possible!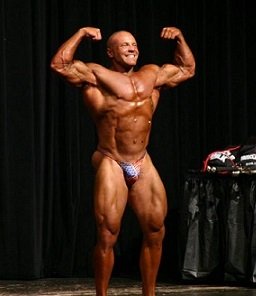 Between books, training clients, your role with supplement companies, becoming a pro bodybuilder and other ventures you've become a big name in the industry. What would you say is the key to your success and longevity?
The key is to outwork everyone, be passionate and believe in what you do, adhere to the highest of morals and ethics and DO NOT BE COMPLACENT! As James Carron will tell you, something is to be said about believing in what you do and practicing what you preach! Also, BALANCE and loving life and my family outside of work and even making them a part of it makes it all work in synergy.
Even though at times you have to be away from your family on business, and are surely a very busy guy, I'm sure it's still an amazing career. What would you say has been the most enjoyable part of it?
The most enjoyable part was when my companies helped raise tens of thousands of dollars to help cure Cystic Fibrosis. My daughter's best friend is Isla (ThisRaceBlows.com) and when she personally thanked and hugged me at the ANBF show we put on in North Carolina, I cried that whole night. This was the single moment I am most proud of and it happened this past November.
I was luckily at that show covering it for Inside Natural Bodybuilding, it was definitely great to see the effect your companies have had so far. A lot of the readers are likely familiar with your YouTube channel. For those that aren't, Marc regularly chronicles his training, business trips, thoughts, and sometimes even his family life. Marc how long have you been on YouTube and what were your initial reasons for first starting it?
I started it for customer service and it kind of evolved into a place to help people find balance in their life through bodybuilding, business and family and I demonstrate how I do it as well as answer questions about business, diet, training and supplements and making an ass of myself to entertain at the same time!
Series like the current one surrounding your wife's journey getting back in shape after having your youngest child undoubtedly helps to motivate and educate a lot of people. Did you think your YouTube channel would grow this much when you first started?
I cannot say exactly what I said, but when my business partner Chad suggested doing one, I said it is "bleeping bleep bleep and stupid". I did it, it blew and is blowing up, and here we are! Almost to 100k subscribers!
You've been with supplement companies for quite some time. Unfortunately we can both agree that all brands are NOT equal. What would you say separates the products worth buying from those best left on the shelf? Also what are the most important things for customers to consider before supporting a brand or product?
I like lists!
TRUST who you buy from.
If it sounds too good to be true, it is!
Support those who support you
People like to do business with people who aren't scumbags!
MTS Nutrition has really grown especially as of late. You just recently came out with Macrolution, a meal replacement product that I personally am a huge fan of after trying. It has some really unique features; can you give the readers a rundown on the formula? I noticed it's a little lower in carbohydrates than some MRPs. I'm sure there is a reason for that since you're known for putting a lot of thought into all of your products.
You can always ADD carbs when bulking, but you cannot take them out when dieting! This is a great balance and the ONLY MRP with the BEST QUALITY WHEY, Healthy Fats, EPIC FIBER content and multiple servings of veggies!
MTS Nutrition Macrolution is the next generation in meal replacement powders (MRPs). Macrolution features fiber-rich carbohydrates like Fibersol, high quality "healthy fats" such as MCT's, a complete anti-oxidant rich blend of veggies and a unique, EFA-rich Whey Protein. The MRPs of yesterday lacked vital micronutrients found in vegetables that aid in overall health and weight management and contained cheap, low-quality carbohydrates such as maltodextrin and waxy maize starch. They also use protein sources like soy and casein that aren't as biologically available as whey. Macrolution uses only the highest quality carbohydrates and a whey only protein blend so you are getting the best of the best in every scoop.
ONLY THE BEST PROTEIN PERIOD—WHEY! No Cheap Soy or Casein!
GUARANTEED BEST TASTING SHAKE EVER!
No Useless Filler Carbs
The Equivalent of MULTIPLE Servings of Fruits and Vegetables
HEALTHY FAT including MCT's. NO CRAPPY FILLER FATS!
NO HIGH FRUCTOSE CORN SYRUP OR CORN SYRUP SOLIDS!
Formulated for RESULTS by myself, Pro Bodybuilder Marc "The Machine" Lobliner!
This is the MEAL you need to help you reach your goals when on the go or when you just don't feel like cooking the perfect meal. Heck, with Macrolution, you are shaking up the perfect meal!
Before I let you go, is there anything you would like to mention to the readers, maybe upcoming news or any shout outs?
James Carron is one of my closest allies and you should ALWAYS look to him for advice and SUPPORT THE MAN DAMMIT! I have said enough, thank YOU for caring enough to read and it was an honor to be interviewed. Because being interviewed in this epic feature….."IT'S NOT A GAME!"
For readers that may want to follow or contact you, do you mind listing any social media or contact information for them?
Marc thanks again for taking the time to interview with TSO and I can't wait to see what's next. Fans be sure to check out our MTS Nutrition and Ethitech Nutrition page for a number of great products you can trust to help you reach your goals! –Andrew Pardue